featuring Brian Wilson, Carl Wilson, Bruce Johnston, Ricky Fataar, Daryl Dragon, Toni Tennille, Joe Walsh, Earl Palmer, Chuck Britz & Stephen Desper
By Scott Paton
Guest writer
I doubt that there's a Beach Boys fan reading this that hasn't fantasized about having attended one of the group's recording sessions back in their heyday. Imagine being in the darkened control room of Columbia Studios as Carl Wilson laid down the lead vocal on "God Only Knows," or perhaps watching all six band members harmonizing on the vocal tag of "This Whole World" in Brian Wilson's home studio in Bel-Air. And, of course, the sessions at Western Studios on Sunset in Hollywood were home to countless Beach Boys classics.
Well, I got to attend a few of the group's recording dates 40 years ago and, while I'm afraid that those occasions are not quite as legendary as the aforementioned sessions, I will say that they provided me with vivid memories which offer a unique snapshot of The Beach Boys' status and dynamics at the time.
But first, a little backstory to explain how I was afforded such a memorable opportunity.
In 1976, at the age of 18, I had moved from the East Coast (Maryland, specifically) in the hope of carving out some sort of career in the music business. There is no question that the songs of Brian Wilson & Co. played a major role in luring me west. I settled into a small apartment in Glendale, a rather staid and sleepy 'burb' in the San Fernando Valley. On my first weekend there, the big Top 40 station, KIIS-FM, was promoting a charity softball game in adjacent Burbank. The deejays were pitted against a team of celebrities that ranged from Henry "The Fonz" Winkler to Peter Tork of the Monkees, Freddy "Boom Boom" Cannon, and American Top 40 host, Casey Kasem.
A fan of AT40, I corralled Casey, not for an autograph, but for some career advice. A very nice guy. We chatted for a while and he gave me his producer's phone number. But before I digress any further into my own memoir, I'll cut to the chase and reveal that I landed a job with the program as a writer/researcher and my career was off and running. I found myself in the remarkable position of interviewing most of the big stars in popular music. One, however, remained elusive – Warner Brothers said that Brian Wilson was not doing interviews. When I mentioned that to show producer Nikki Wine, she said, "Oh, I've known Brian forever, here's his home number."
Nikki had met Brian in 1965 when she was a staff writer for The KRLA Beat, a weekly, tabloid-style music newspaper that had its hand on the pulse of the Hollywood music scene. As thrilled as I was to have been entrusted with Brian Wilson's phone number, I asked that Nikki broker an introduction, making it more comfortable for both Brian and me. With the exception of a two-part feature in Crawdaddy magazine the year before and The Beach Boys' NBC TV special that coincided with the release of 15 Big Ones, Brian had maintained a pretty low profile for many years. So, a chance to meet him seemed kind of like a visit with Rock & Roll's Howard Hughes. At least that was my preconceived notion.
While I don't specifically remember where Nikki and I first met up with Brian – many visits over the next five years often converge and merge in my memory – I was immediately taken by how sweet and vulnerable he seemed. Over subsequent visits, I really kind of set aside the fact that Brian was one of the greatest musical talents of our time. He was just a very nice guy who had become a friend. As he gets comfortable with someone, his intellect and humor emerge and any self-consciousness diminishes – just like most of us.
Over the next few years, there was a fair amount of tumult in Brian's life, as he has documented himself in his memoirs. There were no cellphones back then, so on subsequent moves after he left his home with Marilyn on Bellagio, I would wait to hear from him and get his latest phone number. After a brief stay at his sister-in-law Barbara's home, he got a place in the Pacific Palisades for a while before moving into a rental further inland, just off Sunset.
My visits with Brian were usually at one of these ever-changing residences, although on occasion we would hop in the town car he leased, and one of his assistants would drive us to Disneyland or to Tower Records in West Hollywood on the Sunset Strip. When someone would recognize him, a buzz would start amidst those in the vicinity, and if someone approached, Brian would generally recede in shy mode. I'd gently step forward and try to shorten any such encounter.
Surprisingly, I did not attend any Beach Boys or Brian Wilson recording sessions 'til three years into our friendship. We didn't know each other very well during the time he was wrapping up the Love You LP. The group, of course, cut M.I.U. in Iowa, and while I seem to recall Brian flying to Florida for early sessions for the L.A. [Light Album] at Criteria Studios, history shows that he didn't participate much in the sessions for that LP.
I do remember visiting him at the Palisades house one day and he was playing the album, auditioning each cut. "They did this without me!" he said, sounding a little sad about his exclusion or, more likely, self-exile. But he was particularly impressed with Al Jardine's "Lady Lynda" and fixated on the background vocals, "di-dip, di-dip," in the song's fade. Somehow Brian was able to drop the tonearm and needle of the phonograph on that exact same spot on the vinyl, 10, maybe 12 times in-a-row. He was also very pleased when I told him that I much preferred his original version of "Here Comes The Night" a dozen years earlier. "Carl's usually our R&B singer, but I took a turn on that one," was his response.
In the Fall of 1979, however, Brian would be a bit more engaged in the making of The Beach Boys' next album, although the production reins would be ceded to Bruce Johnston again. Friends of mine at CBS Records said the brass there believed that the group was technically in violation of their recording contract which required more involvement by Brian in the producer's chair. But at least he was upping his ante on this next project.
On one of those car rides to Disneyland, with both Nikki Wine and me in tow, Brian played a couple of rough mixes of what the group had been working on. One of the tracks, which I barely remember, was never released. The other was "Livin' With A Heartache," sporting a great vocal by Carl on this tune that he'd written. I told Brian that it sounded a bit like a country song. "Yeah, it's kind of different for The Beach Boys, don't you think?" he queried. He went on to tell us that he was peeved at Carl for failing to show up for a session a few days earlier. "You know, we're a vocal group. When our best singer doesn't show up, it kind of defeats the purpose." He also shared that Dennis had walked out of a session because his material wasn't being considered for the album.
Brian seemed weary and frustrated with the whole process. I have a tape of one of The Beach Boys' rehearsals from around this time, recorded at their American Productions building on Lincoln Boulevard in Santa Monica. Carl didn't show that day either, and Brian gamely tried to lead the practice with Mike, Al, and Bruce in attendance. But after years of relinquishing his leadership role, the others clearly weren't receptive to Brian calling the shots. It's a shame because he exhibited an enthusiasm in that rehearsal that was fairly rare during that time.
But on our return ride home, after catching Jan & Dean on the Tomorrowland Stage at Disneyland, I was bold enough to ask Brian if I might be able to drop by one of the group's sessions. He said, "Sure, we'll be back at Western later this week; I'll give you a call." And indeed, he did. A couple of days later (this was most likely October '79), I drove into Hollywood and walked into Western Studios for the first time. It seemed almost deserted. Even back then, I was surprised that the door had been unlocked, especially at night.
I found my way into a studio's booth with an engineer seated at what appeared to be a vintage mixing board. I introduced myself as a friend of Brian's, and this older gentleman said, "Hi, I'm Chuck Britz." I had some peripheral awareness back then of Chuck's role in The Beach Boys' recording history, but I curse myself for not having a conversation that extended way beyond the basic chat he and I had that night. He did share, however, that the merged studios, United-Western, had found and purchased the vintage board I observed as it was the same model that Brian had used there in that very room throughout the Sixties. Everyone was hopeful that the familiarity of the gear might aid in making Brian more comfortable in the producer's chair.
Meanwhile, Brian was the only Beach Boy in sight. The others had bowed out. Brian was in the studio with a sole musician – just a drummer. It wasn't Hal Blaine on this occasion, but a distinguished, older black gentleman. Forty-one years ago, my knowledge of popular music history was not yet too encyclopedic, so I didn't realize that I was in the presence of not only an L.A. legend, but one of the greatest New Orleans session musicians – Earl Palmer. Brian had pre-cut a basic music track and was having Palmer add drum fills. Even to a callow 21-year-old, it was evident the love and respect that Earl had for Brian. I was actually quite touched by their exchanges.
The two of them came into the booth and Earl headed home shortly thereafter. I asked Brian what the nature of this track was as it was kind of eerie – spooky even. Brian said, "I'll show you!" He stepped back into the studio and up to the mic and began doing an equally eerie, spoken-word recitation over the track. In the meantime, a young, foreign couple – Dutch tourists, I believe – had wandered in off the street. Clearly, the two were Beach Boys fans who had simply lucked out on a night when Brian Wilson was in session. Brian did several takes 'til he was satisfied with his impromptu, extemporaneous performance. There was no script, it was truly off the top of his head. "Burn a cassette of that, Chuck!" he hollered before returning to the booth.
As soon as Chuck Britz handed me the tape, the Dutch couple literally began begging me for it. They all but fell to their knees pleading to take it with them. I reluctantly gave in. After all, Brian was my friend –there would be other keepsakes—and it seemed like the nice thing to do. The couple left and Brian seemed kind of bummed. "Hey, I made that for you, Scott!" I apologized and explained my action, and he concurred that it was nice of me. I don't know why I didn't ask Chuck to make another cassette, I guess I didn't want to be obtrusive. But not having that tape is a major regret to this day. The best thing I could compare this strange little production to would be "My Solution," another oddity that appeared on a bootleg disc years later.
The following week, I would recruit my former boss, Nikki Wine, and we would meet up with Brian again, all the way across town, at the newest state-of-the art recording studio in Greater Los Angeles, Rumbo Recorders—built, owned and operated by former Beach Boys keyboardist, Daryl Dragon (of Captain & Tennille fame).
Of course, hardcore Beach Boys fans will recognize that name from Dennis Wilson's first, early solo single, "The Sound Of Free," credited to "Dennis Wilson & Rumbo." Rumbo was not a band, but longtime Beach Boys keyboardist, Daryl Dragon—later of Captain & Tennille fame. Daryl always claimed that "Rumbo" was a nod to a character in the Walt Disney film, "Dumbo"—presumably the young elephant's father. But there's no reference to such a character anywhere to be found, so it may simply have been a creation of Dragon's imagination. Anyway, he liked the name, and it also came to provide the moniker for the recording studio he built on Saticoy Avenue in the San Fernando Valley's Canoga Park neighborhood.
Nikki and I showed up at Rumbo Recorders on a weekday afternoon. Brian was already there, and while he seemed generally uncomfortable at being there himself, he clearly was pleased to see two friends who loved him dearly. There was quite the all-star line-up in attendance that continued to unfold as the day progressed. Carl Wilson and Bruce Johnston were the only other two current Beach Boys on-site that day. But adding drum fills to a driving track that, I believe, became "Keeping The Summer Alive," was former member Ricky Fataar! I had labored under the impression – remember there was no Internet back then – that Ricky's departure from the group several years earlier had not been a happy one. I asked Carl about it, as well as Dennis's absence, and he said, "No, everything's cool with Ricky. And he's filling in 'cause Dennis is doing his own thing right now."
Carl would never have referenced a falling out and, presumably, Dennis may have still been putting some effort into his planned second album, Bambu, at that time. I, of course, was disappointed not to see Dennis there. I had done an interview with him at Brother Studios in January 1978, and he was at the top of his game that day. The big reveal during that discussion regarded the almost mythic SMiLE tapes that he had been excavating from storage. He had taken great glee in having engineer Earle Mankey cue up the legendary "Fire" tapes from Brian's proposed "Elements Suite." Dennis hit "play" on the quarter-inch reel-to-reel machine and my mind had been totally blown. It was all he could do to maintain his poker face as my jaw hit the floor. "I thought Brian had burned these tapes," I exclaimed. "Brian never destroyed anything," he responded. "You know him. When he doesn't want to deal with something, he makes shit up!"
I saw Dennis one last time in '81 or '82, and the contrast in his condition in such a short time was both shocking and worrisome. I cherish the handful of times I spent in his company, and I've always been grateful for his sharing "Mrs. O'Leary's Cow" with me when, perhaps (at that time in history), few outside the group had heard it since 1966.
Another veteran of The Beach Boys' golden circle was put to work that day, too. Seated at the futuristic soundboard – in stark contrast to the vintage one I'd just seen at Western Studio days earlier – was Stephen Desper, the brilliant engineer responsible for the band's recordings in the late-'60s/early-'70s, including what may be one of the best-sounding albums ever – Sunflower. He was thrilled by the gear Daryl Dragon had installed at Rumbo, and he demonstrated for me what was the first automated mixing function I'd ever seen – or ever even heard of. When someone would move the faders up or down on the board, mixing the sound levels, a built-in computer would remember the motions and be able to replicate it hands-free. Remember, this was 1979 – a remarkable achievement! The luxury it provided was that if you wanted to keep taking multiple passes at mixing all the recorded instruments and vocals into one seamless sound, you could save previous versions without having to waste time and tape dubbing them down to another source. For you musicians out there, this truly was the birth of ProTools.
It was a thrill to meet Stephen Desper, and that demo of Rumbo's capabilities was fascinating. Daryl Dragon was running in and out of the studio and I caught him and complimented him on his amazing facility. I also asked him why he had built it so far off the beaten path, away from Hollywood. "Well, real estate was cheaper," he said. "But it might end up being more costly if it leads to a divorce! Toni's about to kill me over this place." I laughed, but just a few minutes later I learned that he wasn't kidding. Toni Tennille came in and gave Carl and Bruce kisses and said "Hi" to me. I told her that the studio was really impressive – a "million bucks." She replied, "Oh, it's a lot more than that. I don't know how Daryl talked me into this. We've sunk all our retirement into the studio. Are rock stars going to come all the way to Canoga Park? We're going to have to work forever!"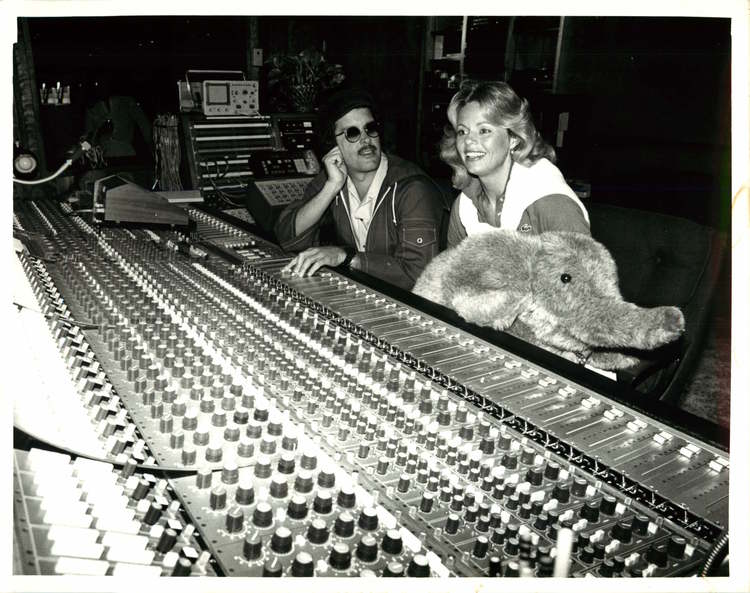 Toni seemed genuinely a bit irritated and more than a little concerned. I have no idea if Rumbo Recorders ended up being a good investment for The Captain & Tennille, but over the years, Guns N' Roses, Tom Petty, Ringo Starr, Heart, and Kenny Rogers were just a few of the acts that cut hit albums there.
Meanwhile, Ricky Fataar had stepped away from the drum kit and Brian demoed a tune that he'd written on the piano for anyone who'd listen – "Goin' To The Beach." A catchy tune, but I remember thinking that The Beach Boys would be better off refraining from "beach"-oriented lyrics at that point. Brian only gave it a couple of minutes and –whether he lost interest or sensed a lack thereof on others' parts – called it quits and came back into the control room before asking his driver to take him home.
Nikki and I had caught Carl at the side of the room, and in the midst of long-forgotten small talk, I asked him if The Beach Boys were now a true democracy. He paused in thought for a moment and replied, "No, I'd characterize it more as a benign oligarchy." I just about hit the floor laughing – Nikki, too. Carl had said this so deadpan (that) I truly didn't know if he was pulling our legs or if he was dead serious. His poker face was not unlike Dennis's when he'd played me the "Fire" tapes the year before. Kidding or not, I assumed that he must have read the term "benign oligarchy" in a book sometime recently and had just been waiting to pull that arrow out of his quiver. Too funny!
Carl then definitely got serious and said to us, "I know you two really love Brian and want to be supportive, but with you here I think he feels pressure to live up to expectations. That's probably why he left." To be honest, I thought it was Brian's diminished sense of authority and a perceived lack of interest on the part of others that had discouraged him that afternoon, but Carl may have been right. Then again, a general disdain for studio visitors/session crashers may have been the true order of the day.
I don't know what the hourly rate at Rumbo Recorders may have been, but there sure wasn't a lot of serious activity in the studio that day. Sadly, no group vocals to observe and a lot of standing around. I talked with Bruce for a while. I asked him if he was going to stick around and keep touring with The Beach Boys after his six-year sabbatical. He pointed out that despite his departure, he was in the mix of at least a song or two on every album since 1965. But as of that day, he wasn't sure of his long-term status with the band other than the production of the new album in the works.
Carl came over and asked, "Bruce, do you have a lyric sheet for that song of yours? I am really not comfortable singing a song about ourselves." Bruce sort of tuned out that comment and explained his song, "Endless Harmony," to me.
"I know that song, "Ten Years' Harmony," I said.
"How do you know it?" queried Carl.
"I have the 45 that Bruce and Terry (Melcher) produced." (It was the flipside of California Music's version of "Don't Worry Baby" in 1974.)
Carl was a bit agitated, "It's a cover, Bruce?! No covers!"
Bruce defensively countered, "It was a B-side of a record that no one bought or heard other than him," (pointing at me).
Carl said, "No covers! … Bruce, I'm not sure about this song, to begin with, and I don't like that it's a cover, too." And with that, Carl turned on his heels and walked away.
"Thanks a lot for that," Bruce said to me. He was clearly bummed out by Carl's reaction.
Nevertheless, Bruce was undaunted and he proceeded to tell me that within a few minutes he was going to lay down his lead vocal on the verses, live with the piano and that he wanted to darken the lights and clear out the room of everyone but Stephen Desper, the recording engineer. Nikki and I got the hint, and as we started to head out, Carl stopped us and said, "We didn't mean to be so ungracious. Just stand over there (pointing at the back of the room) and you can catch some of this if you like."
We thanked him, and we watched and listened to Bruce do a couple of takes of "Endless Harmony" before we slipped out of the studio. Ironically, the Keepin' The Summer Alive LP would ultimately feature Chuck Berry's "School Day (Ring! Ring! Goes The Bell)."
A couple of days later, I called Brian and he told me that he was traveling up to Al Jardine's place in Big Sur where everyone, but Dennis, would be gathering primarily to cut vocals. "You should come up there," he exhorted. He really seemed to want someone in his corner. I made the point that I was kind of uninvited at the session at Rumbo and, besides, Al – at that time – was the one Beach Boy I didn't know. I hadn't even met him yet. I was not going to crash a recording session a few hundred miles from home.
When Brian came home a week or two later, he said that everything had gone pretty well and that Al's place was beautiful. I got a glimpse of it all, as did many Beach Boys fans when footage of the visit and sessions was included in a syndicated TV special*. I seem to recall that "Goin' To The Beach" was one of the tunes partially featured, and that was the last I heard of it until it was released on the Made In California compilation in 2013. [*Note: the television special was titled, "Beach Boys Going Platinum," and aired March 27, 1980, or 4-2-80. The special was a documentary on the making of the Keepin' The Summer Alive album and hosted by Ben Fong-Torres of Rolling Stone Magazine.]
Sometime in early 1980, I was passing Rumbo Recorders on the way to my friend Nikki's home, which was just blocks from the studio. Standing out on the sidewalk was Carl Wilson, having a smoke. I rolled down the window and hollered, "Hi." We talked for a minute and Carl graciously welcomed me in – they were doing some final sweetening and mixing. My timing couldn't have been better as Joe Walsh was overdubbing some slide guitar to "Keepin' The Summer Alive." As I was expected elsewhere, I only stayed for an hour or so, tops. I spoke to Bruce for a moment who expressed that, except for the song title, he thought Keepin' The Summer Alive was more of a "Carl record" than a Beach Boys record.
Carl obviously capitulated on doing "Endless Harmony," and his lead vocal on the bridge is exquisite, even if he didn't like singing about himself. I ran into Joe Walsh a few months later at a stereo shop across from the legendary Pink's Hot Dogs. I told him that I'd seen him laying down the slide on "KTSA." He laughed and said, "Recording with The Beach Boys is a lot less stressful than with The Eagles." I countered by saying that families are always on their best behavior when there's a guest in the house. He replied, "That's what the Eagles needed – more guests. Constant guests."
I must add this note: Carl Wilson and I had several, even more interesting encounters in the years to come, including a joint singing session and the promise of a definitive interview one day that was never to be. But as different as Brian, Dennis, and Carl were as individuals, I came to understand the lines where the three of them intersected – just like so many other families, their shared and unique characteristics were like a human jigsaw puzzle.
Finally, a few weeks after those final KTSA sessions, Nikki Wine and my girlfriend, Teresa, were planning a surprise party for my 22nd birthday. As I was unaware of this, and Jan & Dean were doing another Disneyland show on that date, I called Brian and asked if he wanted to go. In response, he blurted out, "We can't, Scott. Your birthday party is that day! Oh shit, I blew it! Gosh, don't tell anyone I [email protected]*%ed it up." Well, I kept that secret for 40 years. I think the statute of limitations has expired.
When the evening of the party arrived, I acted duly surprised. Brian was watching my reaction closely. The guest list was actually pretty much just Brian and his aide, a great guy by the name of John Simmons, who loved Brian dearly, as well. After the cake was served, Brian needed to step out on the front porch for some air. I went with him. April 1980 was in the midst of a period that wasn't especially a great time for him. Showing up when expected was a hit-or-miss affair for Brian Wilson at that time, and I told him how much it meant to me that he had made it to my birthday party. "Gee, Scott. Of course, I'd be here, you're my friend." I am still moved by that memory.
It was a clear night and Brian stared up at the stars. Rumbo Recorders, where Keepin' The Summer Alive was recorded, was mere blocks away, and the LP had been released just two weeks earlier. Brian shyly asked, "Do you think it's any good?" I told him I liked a lot of it very much and that I thought "Goin' On" was on its way to being a smash. "I sure hope you're right," he half-sighed, "The Beach Boys could sure use a hit."
To purchase the Winter 2020 edition of ESQ, which includes new interviews with Mike Love, Al Jardine, Bruce Johnston, Jerry Schilling, and album drummer Scott Mathews, CLICK HERE
©2020 Scott Eric Paton