A summer fun-themed collection
Review by David Beard
INTRODUCTION
When it comes to Mike's 12 Sides of Summer, several elements rise to the surface that makes this album a welcome release. First, this is a "summer album" from a member of The Beach Boys, so right there you've got me. Second, Mike told me that he recorded these songs because they were (either) "sentimental, or just plain fun to do," and the third album in consecutive years does – in my opinion – establish Mike as a solo recording artist. When it took him 36 years to release Unleash the Love in 2017 (after 1981's Looking Back With Love) it was unclear whether he would continue at such a leisurely pace. He hasn't. After Unleash The Love Mike released the Christmas collection, Reason for the Season in 2018. This year it's 12 Sides of Summer and it comes at just the right time.
THE PRODUCERS
Over the span of the three album projects, Mike has been working with well-known names and talents in the music industry. For Unleash The Love Mike worked primarily with Michael Lloyd. Lloyd has worked with The Osmonds, Belinda Carlisle ("Mad About You"), and Dirty Dancing's "I've Had The Time Of My Life," by Bill Medley and Jennifer Warnes … just to name a few.
For 2018's Reason for the Season, Mike shifted gears and began working with Producer/songwriter extraordinaire Sam Hollander who has worked with Panic! at the Disco, Tom Jones, Carole King, Train, Weezer, One Direction, Blues Travelers and Sugar Ray among others. [Note: Hollander was just voted as the #1 Rock Songwriter on the Billboard Charts in 2019.] Sam knew engineer/instrumentalist/producer Josh Edmondson who has worked with The O'Jays, Arrested Development and G. Love & Special Sauce among others. It was also on the Christmas collection that Mike began to utilize music director Scott Totten as an arranger and producer.
The decision to work with the noted pros has really paid off and Reason for the Season was a genuine holiday romp. Sam Hollander & Steve Greenberg produced five songs (with Josh Edmondson co-producing), Michael Lloyd produced two songs, and Scott Totten produced the five-song All Love section, which featured and included Mike's children (lead and backing vocals) and sister Maureen (harp).
Paul Fauerso is a name that most hardcore fans of The Beach Boys will recognize. He first produced Mike in 1978 for First Love. He would re-team with Mike in the 1990s and work on a World Peace album. The pair would again get together in 2001 through 2005 working on Mike Love, Not War. Much of that material ultimately ended up on Unleash the Love in 2017.
For 12 Sides of Summer, Love again worked with Hollander & Edmondson, Lloyd, and Totten. He also dusted off "Girl From Ipanema," a song he and Fauerso had worked on during the Mike Love, Not War sessions.
Even though there are different producers, the album flows with a Jack Johnson-esque ease, which speaks to each of the producers being dialed into Mike's vision.
THE MUSIC
As it is, 12 Sides of Summer dips into the beach life vernacular and the result is pleasing. The lead track "California Beach" originally stems from Spring 1979, when Mike co-wrote "Skatetown U.S.A." with Al Jardine. Mike reworked the song and retitled it "California Beach" in 1980. This version of "California Beach" is a tasteful nod to days of old and a reaffirmation that all you need to do to enjoy this music is to be "young at heart," and it is a great album opener. Timeless.
"California Beach" segues well into the Michael Lloyd-Produced "It's OK." Initially making its appearance on Good Vibrations: The Beach Boys SiriusXM station in August of 2018, "It's OK" includes Hanson (Taylor, Zac, and Isaac), and was released digitally as a single on Aug. 24, 2018. I really like this particular version … mostly because Mike sounds so good. As I wrote in last year's review of "It's OK," Mike is singing with primal, "garage band" exuberance, and from the very first note, I'm on board. Mike's bass-laden intro of "In the sum-sum-summertime" is an immediate pick-up … and it almost sounds like he's saying, "Endless summertime." Christian Love's "find a ride" provides just the right amount of surf gusto to the recording. While it's true that I always prefer all The Beach Boys to be in a recorded event together, this version of "It's OK" with Mike, Hanson, and The Beach Boys band is bar-none the best rock 'n' roll song Mike has recorded in over 30 years.
But there's more.
For a guy who tours endlessly, and takes the stage every night and performs noted Beach Boys' recordings you'd think he'd get sick of them; that's hardly the case. All you have to do is listen. It's worth noting that the version of "Surfin'" here is light years better than the 1992 Summer In Paradise version. Why? Real instruments. That alone makes this album musically authentic. Solid.
"California Sun" begins with handclaps and instrumentation that jumps feet first into a pillowy harmony "ooh they walk, ooh they twist, ooh shimmy, shimmy, ooh they fly … ahhhhhh … warm California Sun." This is a great re-imagining of this song. Mike's pushing a bit hard here with his voice, but when he hits mid-song he is really feeling it! You can hear Mike having a good time. This is the music he loves.
"Surfin' Safari" is fun, and I like it because it's different. My only criticism of the song that I have is the fade slows too much for my taste on the final chorus.
ABBA's "On And On And On" is next, and this version is better than its predecessor released on 1981's Looking Back With Love. [Note: The '81 version of the song was also released in 1999 on ABBA – A Tribute: The 25th Anniversary Celebration.] Like all the other songs Mike is into it … feeling it. It's in his voice.
The next two songs – "Here Comes The Sun" and "Girl From Ipanema" – are my personal favorites on this collection. Scott's arrangement of "Here Comes The Sun" is wistful and perfectly structured and suited for Mike's voice, and Scott recorded all the instruments for the song. As Mike sings "It's all right …" and the music seeps in you feel the dawn emerging … almost as if you're sitting there with Mike as it rises. You can sense the respect and love Mike has for George Harrison. [Note: The same is true for "Pisces Brothers"; a song that Mike wrote as a tribute to George and appears on 2017's Unleash The Love.]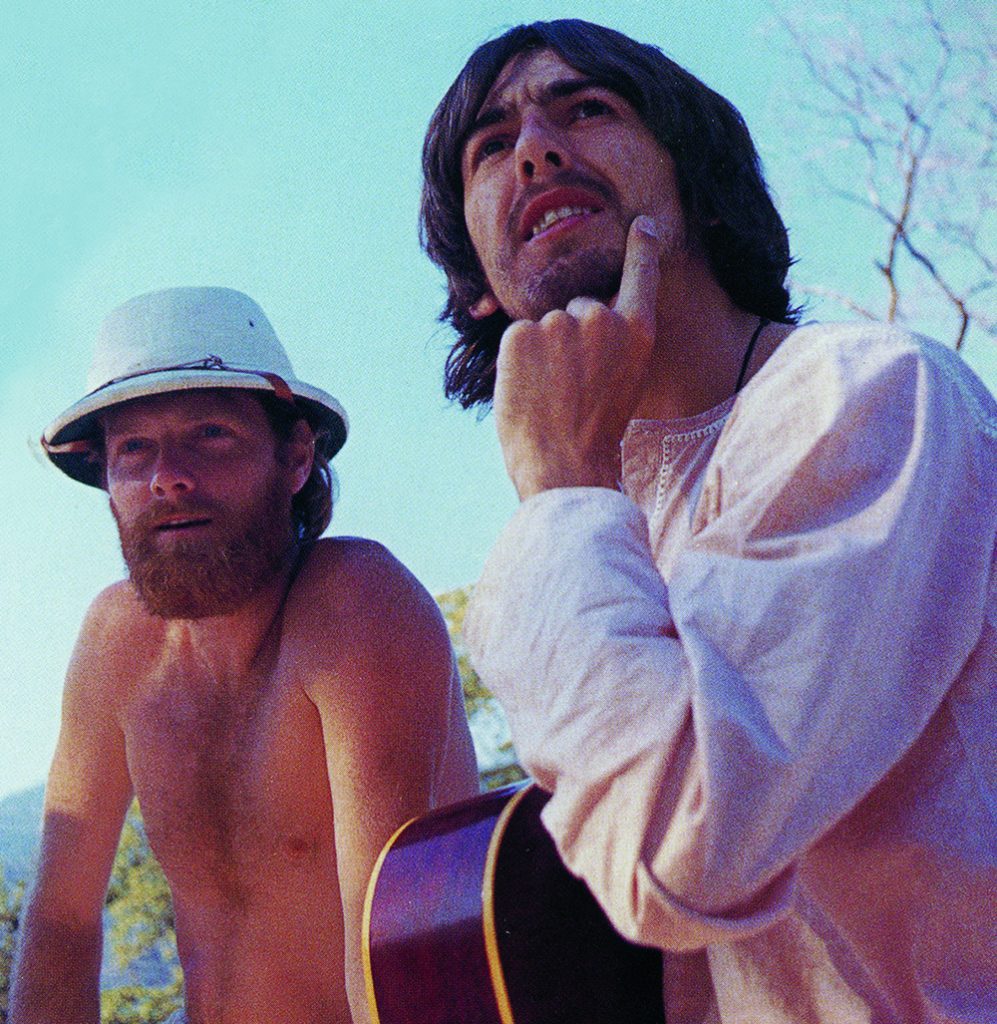 "Girl From Ipanema" is – for all intents and purposes – the best vocal from Mike since "All I Wanna Do" on 1970's Sunflower. Yeah, it's that smooth. The last verse (recorded in Portuguese) is the icing on the cake and a tasteful nod to the original.
"Over And Over And Over Again" is completely different from the version popularized by the Dave Clark Five. The arrangement is unique … very Jamaican and Calypso sounding; it is different for Mike but catchy just the same.
"Keepin' The Summer Alive" should be (for so many reasons) Mike's motto considering the number of years he's celebrated summertime with the fans, and it's cool that Mike has decided to revisit this Carl Wilson/Randy Bachman song from the 1980 album of the same name.
"Summertime Blues" starts off in typical fashion, but this version has instrumental and vocal flourishes that lift it well beyond a standard re-recording. Scott Totten's guitar solo is a nice tribute to Eddie Cochran, and really demonstrates Scott's talent as an emerging producer.
The last song is something everyone has heard by now; "Rockaway Beach" (cover of The Ramones' song) was the first song to debut on May 31, 2019. Mike brings as much energy to this rocker that he does on each of the songs from the album, and the band is stellar.
The thing is Mike is such a great entertainer, songwriter, and singer that he could literally perform every song off the new album and audiences of all ages would be happy as clams. "On And On And On" is the most obscure song, all the other songs are either very well known, or fairly well known. The multi-generational audiences dig this timeless music as much as their parents or grandparents and share that ever-important cognitive connection.
People are spirit, and this music is infused with the spirit of summer and having a good time. Hopefully, this will find your "fun spot" and become your new summer album for 2019. It is for me. There's nothing better than cruising down the road listening to a summer album from one of The Beach Boys with the volume cranked up! 12 Sides of Summer is that album.
Click here to read Keith Devoe's review of First Love
Click here to read Malcolm Searles' review of Country Love
Click here to read Andrew Doe's review of Looking Back With Love
Click here to read ESQ's exclusive online interview with Matthew Jordan
Order 12 Sides Of Summer HERE.
Be sure to purchase ESQ's Fall 2019 Mike Love Collector's Edition featuring exclusive interviews with Mike, producers Josh Edmondson, Sam Hollander and Scott Totten, as well as engineer Tom Gordon.
Also included are interviews with First Love producer Paul Fauerso and engineer Jeff Peters. Mike discusses writing some of these songs for the first time, and Paul and Jeff fill in the details of First Love, World Peace, and Mike Love, Not War. Joining the discussion is producer Al Perkins, as he and Mike remember working on Country Love.
All of this is in the Fall 2019 edition of ESQ! Purchase the new Mike Love Collector's Edition HERE.
©2019, David M. Beard/All Rights Reserved